Explorers
The Fathom Mk II CCR is designed and built for long-range cave exploration and is the first choice for KUR explorers Andrew Pitkin, Brett Hemphill and Jon Bernot.
Andrew Pitkin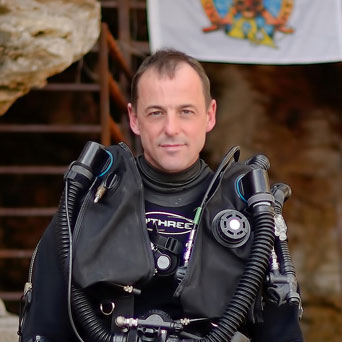 Dr. Andrew Pitkin learned to dive in 1992 in the cold murky waters of the United Kingdom and started cave and technical diving in 1994. His first exposure to exploration was in 1995 when he was one of a team of divers who were the first to reach the bottom of the Great Blue Hole of Belize at 408 fsw (123 msw). Subsequently he has been involved in numerous cave exploration projects in Belize, Mexico, and the USA.
From 1996-2000 he was employed at the Royal Navy's Institute of Naval Medicine, running a hyperbaric facility, treating decompression illness, participating in research into outcome after decompression illness, submarine escape and testing of new military underwater breathing systems. He is one of a handful of civilians to be trained by the Royal Navy as a diving medical officer. He is currently on the faculty of the University of Florida College of Medicine in the Department of Anesthesiology. His professional interests include pediatric cardiac anesthesia and medical education.
In his spare time, he likes to explore and shoot video in underwater caves. He is a director of Karst Underwater Research, a non-profit based in Florida which has been involved in exploring and mapping some of the deepest and most extensive underwater cave systems in the USA since 1996.
Brett Hemphill
Brett B Hemphill is the President of Karst Underwater Research (KUR), which holds multiple permits with the State of Florida for cave exploration and documentation.
For over 25 years Brett has explored, mapped, and documented some of the most unique and deepest underwater cave systems in the United States. In 2008, Brett and team set a new Florida cave depth record at Weeki Wachee Springs in the state of Florida. Five years later, Brett and team set a new record in Texas at Phantom Springs at just over 465' deep nearly 8000' feet back in the cave.
Brett speaks regularly on aquifer and cave conservation, exploration logistics including application and safety for overhead environment equipment usage. He also consults and designs underwater cave equipment such as side-mount BCD and CCR configurations for exploration use.
Brett's film work includes; Red Bull Media House 2015, Crystal labyrinth – Nova 2015, Sinkholes, Buried Alive – National Geographic 2014, Swallowed alive – Animal Planet 2013 (Pilot) Under World.
Jon Bernot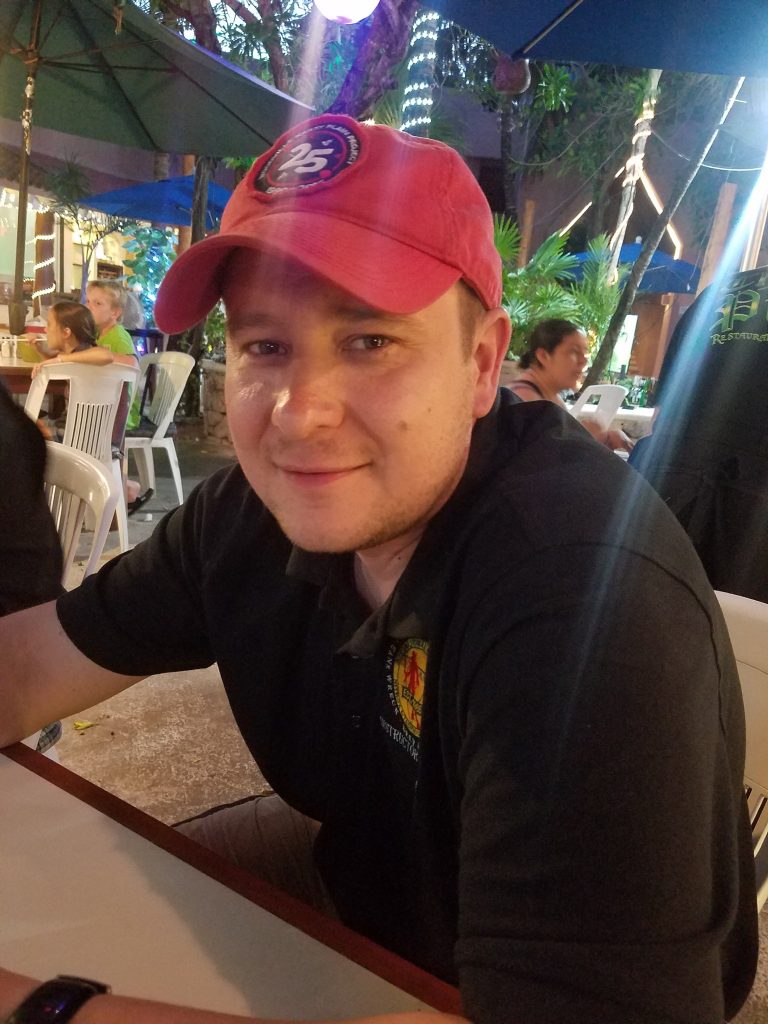 Jon Bernot began diving in the lakes in Oklahoma as a teenager. While studying Political Science at the University of Oklahoma he earned his Divemaster and Instructor certifications.
Following his service as a Marine Corps Officer Jon purchased a dive operation in coastal North Carolina and taught recreational and technical courses while enjoying the world class wreck diving in the Atlantic. Jon started cave diving in 2008 and eventually moved to north Florida where he worked as the Service Manager for Dive Rite and became a cave instructor.
In 2014, Jon purchased Cave Country Diving and has since worked full time as a Cave, Technical, and Rebreather Instructor and Instructor Trainer. Jon has held instructional ratings with PADI, PSAI, IANTD, and was the Training Director for the NSS-CDS. A JJ-CCR, O2ptima, KISS, and FATHOM CCR instructor, he has nearly ten years of closed circuit experience and hundreds of mixed gas dives. Jon holds the world record for penetration in an underwater cave in the Falmouth-Cathedral Cave System. While participating in numerous North Florida cave mapping projects, exploration time is balanced with time teaching the next generation of technical divers.